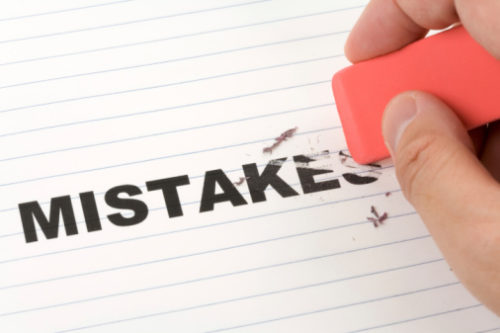 We need to be careful with our interpretation of everything that happens in our workday.
Don't ever think anything negative can't be corrected, and corrected easily. There are no unforgivable sins, only correctable mistakes.
When we feel any type of fear, pain, or we begin a judgement of someone, we need to mentally step back from the situation, get present, stay in the right mind for a little while at least, and interpret whatever just happened to steal our peace as nothing more than a blunder. An error. An oversight. A mistake that CAN BE CORRECTED.
Remember that the error we are talking about here is THE INTERPRETATION WE JUST MADE, OR ALMOST MADE.
The point to not forget is that we are not correcting what just happened. That in itself doesn't mean anything. It came from outside, so you tell yourself. But there is nothing outside and this is only your thought, making an appearance as something happening to you.
We are correcting OUR OWN INTERPRETATION of what we think just happened. Perhaps you judged somebody insulting you. Taking part of your job away. Something like that.
At the moment you feel the fear, step back and tell yourself you have been mistaken in your initial interpretation, and that a mistake like the one just made can be corrected.
See if you don't feel better immediately.
"How do I correct it?," you may be asking.
Simple. Watch your thoughts go by from the mind-watching right mind. Feel the present moment envelop you. Realize that your interpretation was wrong and in reality you are merely observing your own thoughts.
Try this method. It will help you and all those "people" "around you."